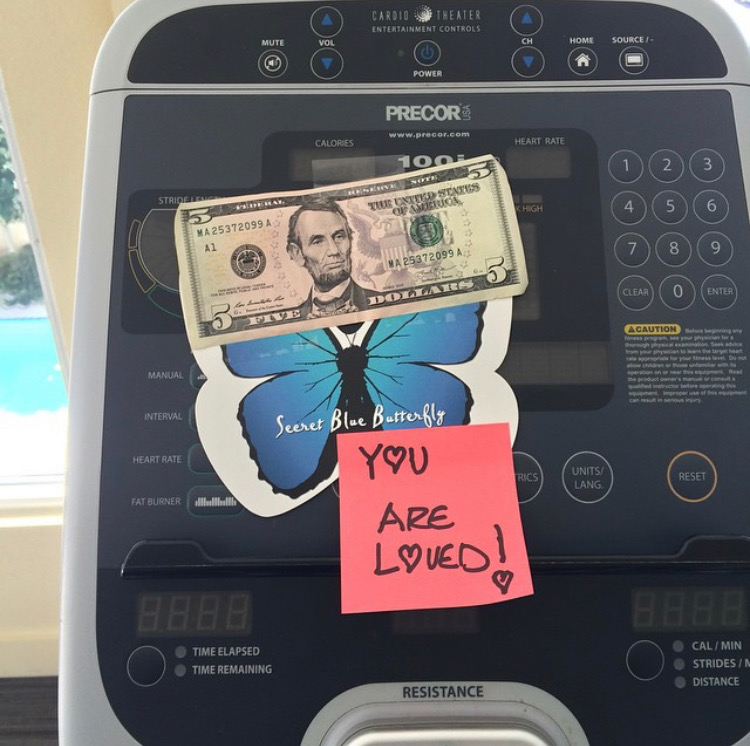 Secret Blue Butterfly was founded in 2014 and started when as a family, we decided we wanted to see if one random act of kindness could change the world.  It all started with one random act of kindness—we placed some flowers on a stranger's car—and now it has spread to more than 6o countries.  It's simple: do something nice for someone and leave them a butterfly!  It could be a dollar, a flower, or even a note of encouragement—whatever you choose is perfect as long as you choose to see the light in others and offer love from your heart to a fellow traveler here on Earth.
We send butterflies for free anywhere in the world and we cover the costs of the printing and mailing.  This is our way of changing the world with love one kind act at a time, and we have been so blessed with this experience.
Many people have asked us if they can help the cause by donating money for printing and mailing costs and although we resisted this for a long time, we finally realized that this is how some people would like to do their random acts of kindness.  With this in mind, we have provided this donate button for those interesting in joining the cause.  All money will be used to support printing, mailing and web costs in order to continue this kindness revolution that is so needed around the world.  Join people from all over the world from countries as far as France, England, Canada, Iran, Russia and all 50 states.
We have watched the powerful impact this has had on the world.  We have heard stories from around the world about how these acts have given people hope that the world truly is kind.  We are the change we seek and one kind act DOES change the world. Join us on this journey and become a butterfly ambassador and follow our story on Instagram and Facebook.  Sending love and light to all today!